Free transport
24/7 security
Lowest price
Rent from one week
Free transport
24/7 security
Lowest price
Rent from one week
Faster. Easier. Cheaper.
Webshop Self Service
Find your nearest storage space
42 locations, always nearby!
WEBSHOP SELF SERVICE
24/7 SELF SERVICE DROP-OFF
At the ALLSAFE locations in Amsterdam-South, Arnhem, The Hague North-East and Utrecht-South, webshops can leave their orders for shipment 24 hours a day. Packages delivered late at night are delivered the next day.
You can transfer your parcels completely independently via PostNL's Scan & Go column. No ALLSAFE tenant? Then a one-time registration is required, after that you are not dependent on staff for 15, – per month and you no longer suffer from annoying queues. For tenants of ALLSAFE, use of the Shipping Area is free.
Discover your benefits
SEND
Send all your orders in one go quickly and easily via the ALLSAFE Parcel Shipping Area.
✓ Late delivery: late night cut-off
✓ Accessible 24 hours a day
✓ No waiting times: scan & go self-service
✓ Advanced Dynamic Camera Security
✓ Also available for non-renters!
PACKAGING
Easily prepare your parcels for dispatch in the professional ALLSAFE Parcel Shipping Area.
✓ Franking with ALLSAFE discount rate
✓ Professional fulfillment work tables
✓ Free use of filling material and tape
✓ Available 24 hours a day
✓ FREE for renters of ALLSAFE Mini Storage
STOCK
Store your stock safely at ALLSAFE in your own stock unit. Spaces available from 1 to 120m3.
✓ Unique alarm and camera security
✓ Climate control in every unit
✓ Flexible rental: change format weekly
✓ Goods receipt service possible
FULFILMENT CENTER
Prepare your orders for shipment in our professional fulfillment areas, which you can use for free as a ALLSAFE customer. Spacious packing tables and free use of filling material and tape.
ALLSAFE CUSTOMERS SHIP WITH ADVANTAGED RATE
ALLSAFE customers save up to € 1.50 per package with a special PostNL business account. Via ALLSAFE you do not pay € 6.75, but only € 5.40 per package!
STORAGE SPACE THAT GROWS WITH YOU
Your home is of course not a warehouse. When you start with your webshop, you can easily dispose of those few boxes of stock. But as you grow, your inventories – and so do your returns – increase.
Create overview, space and tranquility for yourself by separating business from private. You will find the best place for your stock at ALLSAFE. You can already rent your own 1m3 unit from € 1.40 per week. A big advantage is that you can switch weekly to a larger or smaller unit. In this way ALLSAFE grows with you, both in good and bad times.
Choose your location using the form on this page.
ALSO USEFUL!
Mailbox:  Your own mailbox is ideal for separating your business mail from private mail. At ALLSAFE you rent a smart mailbox, which automatically informs you when you have received a mail item, and from whom it comes.
Business address: as a webshop it is possible to establish yourself at the address of your ALLSAFE location. We have special agreements with the Chamber of Commerce for this. With a business address at ALLSAFE you protect your private address and immediately give your company a professional image.
Help with furnishing: our employees are experts when it comes to space. They are happy to advise on the smart layout of your unit. In addition, handy shelving units are available at our locations and, if desired, our employees will be happy to assemble them for you.
Goods receipt: we can also receive your stocks during the day. We put packages and pallets ready in your unit for a minimal fee.
Convenience of transport: as a ALLSAFE customer you can use our delivery van or trailer at a reduced rate. And if you are not able to collect your supplies yourself, ALLSAFE even offers a collection and delivery service.
THE BENEFITS WEBSHOP SELF SERVICE
✓ Delivered late in the evening = next day delivery
✓ ALLSAFE customers receive an extra discount on their regular or business PostNL rate
✓ Rooms from 1m3 to 120m3, can be canceled weekly, equipped with their own alarm and climate control
✓ Make use of spacious packing tables, professional machines and a PostNL Label printer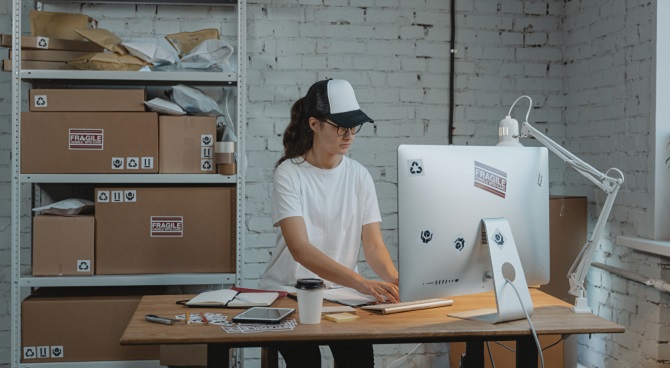 How much space do I need?
Easily calculate your required storage space in 1 minute