Free transport

24/7 security

Lowest price

Rent from one week
Free transport
24/7 security
Lowest price
Rent from one week
This way you work optimally from home!
11 December 2019
By elsemieke
Reading time:
4
minutes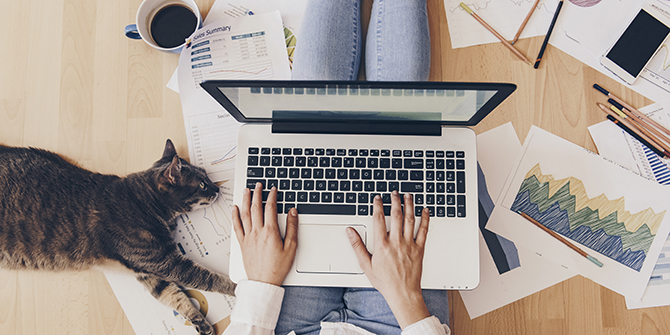 More space for business
Are you in favor of the 'new way of working'? More than 866,000 Dutch people are now working (partly) from home! When you work at home, you must of course be able to concentrate and not be distracted by your surroundings. Read below how you can furnish your home office as well as possible in 3 steps. The more rest you have at your workplace, the more efficiently you can work!
1. Start with the basis
Before you make any changes to your home, it's important to make room for it. First determine for yourself how big the place should be. And notice: an office doesn't have to be a big space. You can also create an excellent workplace in the corner of your living room.
Of course it is ideal if you can set up a separate study room for this. A space of 6 square meters is enough for you.
The first step is therefore to make room so that you can set up the workplace. You do this, for example, by finding another room for your important and daily items, such as an attic or bedroom.
You can now sort or throw away items that you no longer use. What remains are the things you don't use every day, but don't get rid of because they have value to you. You can store these items in other rooms, but you probably only use them once or twice a year, maybe even less! That is why they take up unnecessary living space and it is better to store them outdoors, for example in a storage room at ALLSAFE. This way you can easily create space without having to throw things away.
2. Geef je werkruimte wat kleur
Colors affect your mood and your ability to concentrate. If you want a quiet study room, it is best to choose the color gray. Gray forms a shield for influences outside, so you are less likely to be distracted.
Want a boost while working? Then you can choose the color yellow, which has a cheerful and stimulating effect. Do you have a job that requires a lot of inspiration? Then choose blue and purple. These colors represent creativity and insight, they stimulate your imagination and therefore your career!
3. How to set up your office for an optimal work flow
The room is empty and has taken on its colors, so now it's time to decorate it so that working from home is as pleasant as possible:
• A customized desktop is very important for your working posture: buy a desk for your workplace with a top that is high enough. Make sure to create a 90-degree angle between your upper and lower legs;
• A good office chair is also important. Make sure your feet can be flat on the floor and your back straight;
• Use desk accessories such as a pen tray and mailboxes. This way you keep your workplace tidy and you are not distracted;
• Add a little green to your workplace too! Research shows that houseplants clean the air around your workplace. They absorb toxic substances, such as the vapor of printer ink. In addition, they also produce oxygen, which is good for your concentration.
With these 3 steps, working from home becomes a party! Create peace and space in your head with a storage space at ALLSAFE.
More space for business
Some freelancers have their workspace at home, others choose to... Continue reading
Moving tips
Seniors and elderly often move to a smaller house at some po... Continue reading